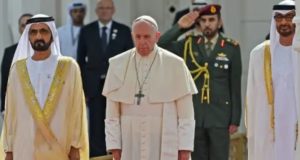 The Presidency of Wos-Ipsp, the President H.E. Dr. Eugenio Lai and the Secretary- General, H.E. Dr. Alfredo Maiolese support the historical document that involves billions of people.
The Pope and the leading exponents of the international Islamic community gathered in Abu Dhabi to confirm the document of the Human Brotherhood. A historical document of great inspiration and concreteness written by Pope Francis and Grand Imam of Al-Azhar Ahmad Al-Tayyeb
A reference text that defines the principles of freedom and rights. A declaration of "enormous weight" because it takes away any future possibility of other interpretations and ambiguities.
No one can say that his is an interpretation of Islam or a national political necessity. From today, a principle shared by all is established.
DOCUMENT OF THE HUMAN BROTHERHOOD
Some passages of the text.
We also attest to the importance of the awakening of the religious sense and of the need to revive it in the hearts of the new generations, through healthy education and adherence to moral values ​​and right religious teachings, to face individualistic, selfish and conflicting tendencies. radicalism and blind extremism in all its forms and manifestations.
The first and most important objective of religions is to believe in God, to honor Him and to call all men to believe that this universe depends on a God who governs it, it is the Creator who has molded us with His divine wisdom and we he gave the gift of life to keep it. A gift that no one has the right to remove, threaten or manipulate at will, on the contrary, everyone must preserve this gift of life from its beginning until its natural death. We therefore condemn all life-threatening practices such as genocide, terrorist acts, forced displacement, trafficking in human organs, abortion and euthanasia, and policies that support all of this.